Basic Information
Summary
First Presenter: TAKAO Yūta (Hokkaido University): "Paradigms of Esoteric Buddhism in Heike monogatari, 'Tsurugi no maki': A Look at the Character of Dragon King Fūsui"

Second Presenter: NAKAMURA Rie (Kyoto University): "The Transmission and Reception of Woodblock Editions of Shuihuzhuan in Japan"

Discussants: 厳教欽 (Tokyo University) and 武茜 (Tokyo University)

Host
The Creation of a Next-Generation Hub for East Asian Classical Studies: Accelerating Research and Education through International Collaboration
Reports
 The 13th session of A Platform for Rising Scholars was held at the Komaba Campus of Tokyo University on February 16th (Friday). Aside from the core members of this program, approximately ten other participants attended the event. The Platform for Rising Scholars is a workshop that provides an opportunity for young scholars to present and discuss their research with other scholars from a number of institutions throughout the country, thereby stepping out of the confines of their respective institutions and local research groups.
 For this most recent session, we invited Nakahara Rie, a doctoral student at Kyoto University, as well as Takao Yūta, a doctoral student at Hokkaido University, to present their research. Moreover, we invited Um Kyoheum and Wu Xi, both from Tokyo University, to serve as discussants for this session.
 Saitō Mareshi began this session with a brief explanation of the workshop. This was followed by a research presentation by Takao Yūta. He examined the significance of esoteric doctrines in relation to a particular sword that, according to the "Tsurugi no maki" chapter of Heike monogatari, fell into the western sea along with Emperor Antoku—who, incidentally, was later believed to be an incarnation of a certain dragon king known as Fūsui Ryōō. After this presentation, Um Kyoheum, one of or commentators, brought up the fact that the name Fūsui Ryūō does not actually appear in the chapter in question, and that the "someone" in the phrase "someone's dream" found in this same chapter is possibly an allusion to the Buddhist monk Jien. A discussion then ensued in which we considered that the account of Fūsui Ryūō might have been first compiled by Jien himself.
 The floor was then opened up to questions. One participant asked whether or not we might consider the name Fūsui Ryūō as a defining feature of "Tsurugi no maki." It was also suggested that, in order to gain a proper understanding of how exactly this chapter, or even Heike monogatari as a whole, was interpreted by past readers, it might be necessary to take into reconsider the role of this dragon king. Finally, Takao explained in what way his own research differed from previous research that tended to focus on questions of sovereign authority. This new approach, it was agreed, has the potential of providing scholars with a new way of envisioning the Heike clan.
  Next, Nakahara Rie presented her research findings in regards to the various manuscript lineages of Shuihuzhuan, focusing mainly on the transmission history of a 120-chapter woodblock edition of the text belonging to a class of manuscripts known collectively as the wenfan bufenjuan lineage. After looking at the development from the Zhongyi shuihu quanzhuan to the Zhongyi shuihu quanshu, Nakahara then noted the existence of different chapter headings in each: one edition reads "chapter 111," while the other reads "chapter 1 of the second part." It would seem, said Nakahara, that the book publisher Yuyutang had intended to publish two editions—one with 120 chapters, the other with just 100 chapters—from the same woodblocks.
 Wu Xi, our other commentator for this session, enquired as to the reason why readers might have demanded an edition with only 100 chapters, and asked how many chapters other editions published in Japan tended to have. Having opened up the floor to questions and comments, one of our participants asked what significance we ought to attach to this change from a 120- to a 100-chapter edition.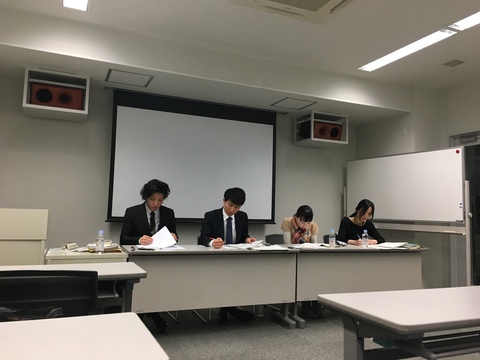 After a brief break, our two presenters, along with our two commentators, summarized the findings of this session, ending with a few words regarding new directions this research might take in the future.
(Matsubara Mai, Specially appointed researcher at Tokyo University)
About the Platform for Rising Scholars
 The Platform for Rising Scholars was started in 2016 as part of the Creation of a Next-Generation Hub for East Asian Classical Studies: Accelerating Research and Education through International Collaboration (headed by Saitō Mareshi), with hopes of providing young researchers with an opportunity to share their research and communicate with one another. This platform encourages promising researchers, including graduate students, post-doctors, assistant professors, and lecturers, to present their research outside of their home institutions. Commentators are likewise selected from among young researchers for the purpose of promoting inter-institutional communication.